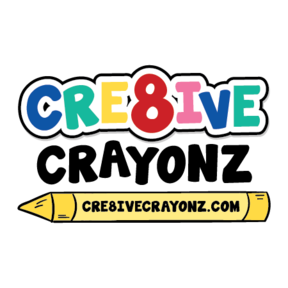 Back on March 29th, 2020 I was furloughed from her job in fashion. I have always been creative. I spent over 25 years in the fashion industry after majoring in fashion/textile design in college and I even designed her own prom dress!
Once on furlough, I was able to spend lots of time with my 6-year-old daughter who takes after me with a love of arts and crafts. Together we did art projects every day based on themes she picked. One day was crayon theme so we read the book "The Day the Crayons Quit", drew pictures with crayons and then made crayons. My daughter wanted to give the crayons they made to her friends and they all loved them.
Over the next month or so my head spun thinking about her career and what might come next if I left the fashion industry. One morning at 2am, I woke up and thought "I can make crayons!". I immediately sketched a logo and started to write down all her ideas. When my husband woke up the next morning and heard about my plan, he thought I was crazy but was also fully supportive!
My daughter was also excited and eager to help when I told her about my new venture. She immediately said "Mommy, I want to pick the molds for the crayons!". She dove right in earning her role as Cre8ive Director by picking out molds and color combinations, popping the crayons out of the molds and even styling the product shots.
After months of experimenting, trial and error and lots of early morning creating sessions, I was finally happy with the quality I was producing. I was eager to start building her brand and knew that her hometown of Hoboken, a VERY family friendly and supportive community, would be the perfect place to launch.
I began by selling to Hoboken residents, friends and family. Everyone was so thrilled with their Crayonz, they started recommending them to THEIR friends and Cre8ive Crayonz went national. Then, at the end of October, I launched on Etsy to allow for easy on-line transactions.
Changing careers and starting a business at the age of 47 was SCARIRST thing I have ever done. But seeing the demand for her product and watching her company flourish makes it all worth it. And then almost a year after my business was born from a quarantine craft project, Cre8ive Crayonz was featured in its first TV segment. Proof a leap of faith, passion and hard work really do pay off.
Favorite Camp:
Pine Forest
Favorite college or university:
Syracuse
Favorite sports team:
Philadelphia Eagles
No followed people